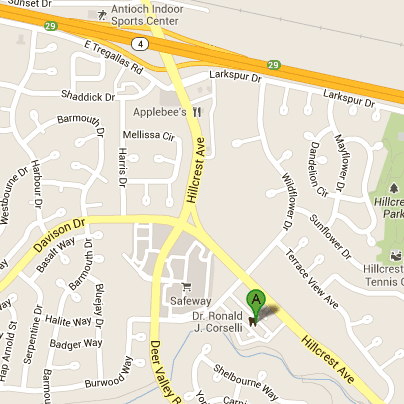 Contact Us
We've moved!
3436 Hillcrest Avenue, Suite 150
Antioch, CA 94531
Get Directions
925.754.6767
Monday – Friday, 9:00 a.m. – 5:30 p.m.

Appointments
We shall make every effort to see you at your convenience. We may be unable to see you the very day you call because of previously booked appointments, but will do our best to see you as soon as possible. Please have your insurance information at hand when you call to make an appointment.
Cancellations
We respectfully request the courtesy of 24-hour notice if you are unable to keep an appointment so that time may be made available for patients with urgent problems. We charge a $25 cancellation fee for patients who do not provide at least 1 business day notice of appointment cancellation.
If you are scheduled for a surgery, we require 48-hour notice if you need to reschedule or cancel your procedure.